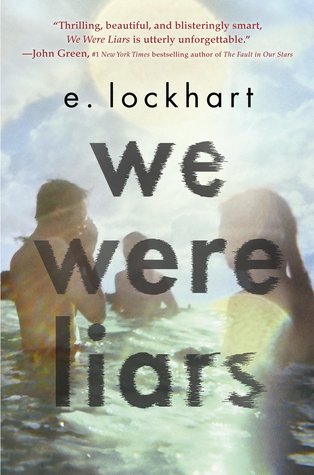 Title: We Were Liars
Author: E. Lockhart
Format: Personal purchase hardcover
Release Date: May 13, 2014
Summary (from Goodreads): A beautiful and distinguished family.
A private island.
A brilliant, damaged girl; a passionate, political boy.
A group of four friends—the Liars—whose friendship turns destructive.
A revolution. An accident. A secret.
Lies upon lies.
True love.
The truth.
 
We Were Liars is a modern, sophisticated suspense novel from National Book Award finalist and Printz Award honoree E. Lockhart. 
Read it.
And if anyone asks you how it ends, just LIE.
So I have been hearing about this one for months.  All I knew was that it was amazing and no one wanted to talk about what it was actually about.  I am so glad that no one did and I avoided as much as I could about this one.  This review will be a bit different so I can try to tell you about it without telling you about it.
One thing I can share is that Lockhart's writing is beautiful.  Just beautiful.  Her descriptions and the language she uses blew me away.  I have not read narration like this in such a long time.  I found myself rereading parts to take it all in.  There are sentences that I can still remember even now after finishing it.
The story is strong, too.  Mystery.  Suspense.  Coming of Age.  There is a little bit of everything in here – but I cannot tell you what it all is.  I just can't.  I want you to be able to enjoy it the same way I did.  I want you to have to chills and yell out in surprise.  I hope that is not giving too much.
This is one of the hardest reviews I have ever written.  I know there is not a lot here, but trust me, you want to read this book.  And once you do (or if you already have) please talk about it with me.  It is still running trough my mind a few days later.  Great read for this summer that I cannot wait to share with students in September.
4.5/5 stars