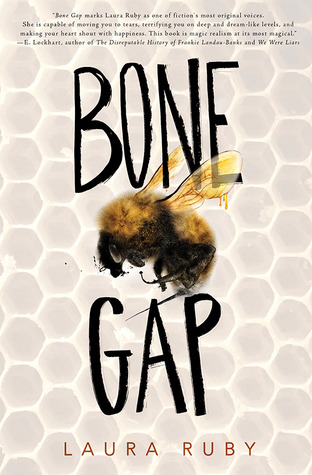 Title: Bone Gap
Author: Laura Ruby
Format: Hardcover, borrowed from public library
Release Date: March 3, 2015
Summary (from Goodreads): Everyone knows Bone Gap is full of gaps—gaps to trip you up, gaps to slide through so you can disappear forever. So when young, beautiful Roza went missing, the people of Bone Gap weren't surprised. After all, it wasn't the first time that someone had slipped away and left Finn and Sean O'Sullivan on their own. Just a few years before, their mother had high-tailed it to Oregon for a brand new guy, a brand new life. That's just how things go, the people said. Who are you going to blame?
Finn knows that's not what happened with Roza. He knows she was kidnapped, ripped from the cornfields by a dangerous man whose face he cannot remember. But the searches turned up nothing, and no one believes him anymore. Not even Sean, who has more reason to find Roza than anyone, and every reason to blame Finn for letting her go.
As we follow the stories of Finn, Roza, and the people of Bone Gap—their melancholy pasts, their terrifying presents, their uncertain futures—acclaimed author Laura Ruby weaves a heartbreaking tale of love and loss, magic and mystery, regret and forgiveness—a story about how the face the world sees is never the sum of who we are.
I am not sure exactly how I am going to review this one.  I absolutely loved Ruby's writing.  It is beautiful. She builds such fascinating characters that keep you wanting to read more.  Her descriptions make you feel as though you are right there in Bone Gap along with Finn and the others.  I can really appreciate the art of her writing.
I also enjoyed the multiple perspectives.  I have written about how much I like this in books before. I was pretty sure there were only going to be two perspectives, but was pleasantly surprised as to how many and which characters added to the story.  All the perspectives are written in third person which I also enjoyed because it is not as common these days.  I have nothing against first person narratives; it was just a nice change of pace.
Where I am struggling is with the magical realism aspect of the book.  I have struggled with books like this before. They just don't hold my interest most of the time.  I still give them a try and every now and then, I find books with elements of magical realism or fantasy that I really enjoy.  However, I did not understand how it fit into the plot with this one.  There are parts where magic appears that does not seem to fit in with the story.  And I still do not fully understand what happened to Roza and at the end of the novel.  I know many people have loved this book.  I just think this is a genre I do not enjoy as much as others.
There are still strong themes of love, family, and friendship that I also liked.  These are what kept me reading the novel to the end.  This is by no means a bad book; it just was not the book for me.
3.5/5 Stars