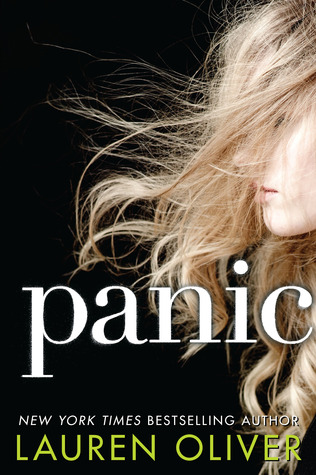 Title: Panic
Author: Lauren Oliver
Format: Hardcover personal purchase
Release Date: March 4, 2014
Summary (from Goodreads): Panic began as so many things do in Carp, a dead-end town of 12,000 people in the middle of nowhere: because it was summer, and there was nothing else to do.
Heather never thought she would compete in Panic, a legendary game played by graduating seniors, where the stakes are high and the payoff is even higher. She'd never thought of herself as fearless, the kind of person who would fight to stand out. But when she finds something, and someone, to fight for, she will discover that she is braver than she ever thought.
Dodge has never been afraid of Panic. His secret will fuel him, and get him all the way through the game, he's sure of it. But what he doesn't know is that he's not the only one with a secret. Everyone has something to play for.
For Heather and Dodge, the game will bring new alliances, unexpected revelations, and the possibility of first love for each of them—and the knowledge that sometimes the very things we fear are those we need the most.
There is something about Lauren Oliver's writing that I just love.  Her way with words always blows me away.  While the plot of Panic does have suspense and kept me at the edge of my seats at times, it is Oliver's writing that keeps me glued to her stories. This is another beautifully written novel that I found very hard to put down.
I found the whole idea of this Panic competition fascinating.  I wondered what it would take for someone to want to do it.  Heather and Dodge were strong narrators to follow in their journeys because they are both in the competition for such different and personal reasons.  They view Panic differently and their views give readers multiple meanings of what Panic and living in Carp really mean.  I am usually a big fan of duel narration and I really enjoyed both narrators and how different they were.
One thing that did bother me about Panic was I kept asking, "Where are the adults?  They have to know about it by now.  Why does it keep happening?"  Maybe that is just a sign of my age now, but I I found myself asking that over and over.  Despite this, there is enough tension along with Oliver's writing to keep readers intrigued and wanting to know what will happen next.  The tension at the end had me trying to rush through pages to see how it would all work out.  This was a stay up late to finish type of ending.
I know there has been some comparisons out there to The Hunger Games.  While I can see where some comparisons might be made with this type of competition, I think when I do share this book with students I am going to shy away from that comparison.  A book can be enjoyable on its own, not just because it is the next whatever.  I will focus on the tension and suspense that comes with this plot as opposed to it being another Hunger Games.
Overall, Panic was an enjoyable read and paced just fast enough to keep me reading and waning to know what will happen next.  I can see it being popular in the classroom.
4/5 stars