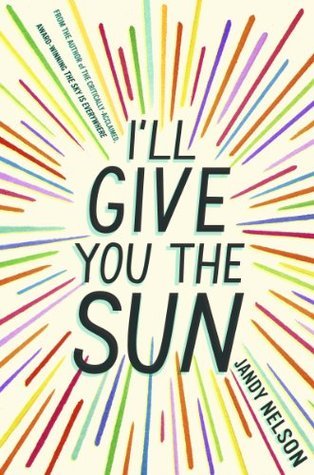 Title: I'll Give You the Sun
Author: Jandy Nelson
Format: Personal Purchase, Hardcover
Release Date: September 16, 2014
Summary (from Goodreads): Jude and her twin brother, Noah, are incredibly close. At thirteen, isolated Noah draws constantly and is falling in love with the charismatic boy next door, while daredevil Jude cliff-dives and wears red-red lipstick and does the talking for both of them. But three years later, Jude and Noah are barely speaking. Something has happened to wreck the twins in different and dramatic ways . . . until Jude meets a cocky, broken, beautiful boy, as well as someone else—an even more unpredictable new force in her life. The early years are Noah's story to tell. The later years are Jude's. What the twins don't realize is that they each have only half the story, and if they could just find their way back to one another, they'd have a chance to remake their world.
This radiant novel from the acclaimed, award-winning author of The Sky Is Everywhere will leave you breathless and teary and laughing—often all at once.
So here is how I thought I was going to have to start this review a few days ago: I think this one was a little too hyped up for me.  My expectations were too high.
That is not how I am beginning this review now that I am writing it.  Not at all.  I loved this book.  It took me a little bit to really get into, but once I was, it turned into read-every-possible-second-of-the-day and stay-awake-way-past-my-bedtime-to-get-it-read kind of book.  This book is amazing.  This book is beautiful.
I loved these characters.  Each of them.  Nelson has created characters that are flawed.  This characters make mistakes; in most cases, many mistakes.  Yet, I still cared for them. I could still feel for them.  This made them so real to me because people are not perfect.  And yes, we sometimes hurt those we love the most.  But they love us, too, no matter what.  And that's what matters.
I really loved how the story was told.  Noah told the story from when they are 13- to 14-years-old.  Jude tells the story when they are 16 and this alternates each chapter.  I really loved the way their experiences are intertwined even with the gap in years in the story.  I wanted to know what happened to go from Noah's story to where the twins and the people in the lives were in Jude's story.  It kept me wanting more the more I got into the story.
Nelson's writing blew me away.  I want to see the artwork that is described.  I want to read all of Grandma Sweetwine's Bible.  I wish I could be even half as articulate in describing this book as Nelson is in telling the story.  I don't think I can give it full justice.
While I had to take my time with this and did not devour it the way I expected, I would not have had it any other way.  When I read the last page, I said "Wow!" out loud.  I have not felt this affected by a book in a long time.  I hope you have the opportunity to read this book and enjoy the experience as well.  I look forward to discussing it with readers.
5/5 stars